UPCOMING: AFFORDABLE ART FAIR NEW YORK
September 25 - 29, 2019
We're looking forward to debuting work by new gallery artists Natale Adgnot, Evan Ishmael, Kathryn Knudsen, and Jodie Fletcher. We will also be launching new work by Kal Mansur.
Find us at Stand #E11 (first floor) at the Metropolitan Pavilion. Address is 125 W 18th St, New York, NY.
Opening times:
Wed, Sep 25th: Private View from 6-9 pm
Thurs, Sep 26th: Trade hours from 11-12 pm, public hours from 12-6 pm, Art After Dark from 6-9 pm
Friday, Sep 27th: Trade hours from 11-12 pm, public hours from 12-6 pm, free admission from 6-8 pm
Sat, Sep 28th: Stroller hours from 10-11 am, public hours from 11-8 pm
Sun, Sep 29th: Stroller hours from 10-11 am, public hours from 11-5 pm
JOHN-PAUL RAUTIO
ISOMORPHISMS
KAL MANSUR
PULSE PRIZE NOMINATION FOR NON-SPECIFIC OBJECTS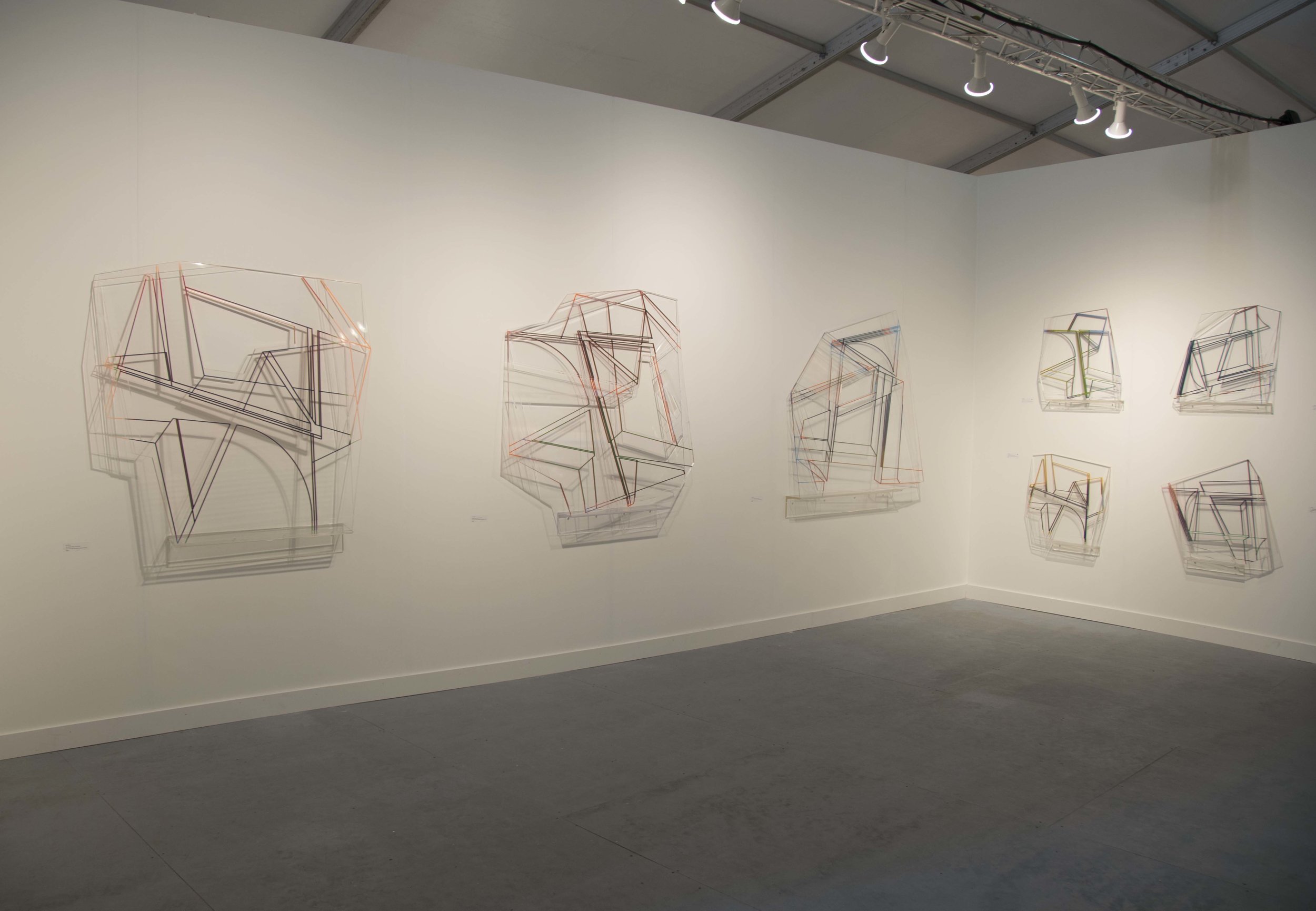 reference: contemporary is pleased to present Kal Mansur's Non-Specific Objects, an entirely new body of work that will be launched at Pulse Miami Beach. The fair opens on Thursday, December 6 and runs through December 9, 2018, at Indian Beach Park.
What is a line? The question is naive. A line, real or imaginary, signifies a path, a continuous point, a moving mark. It designates both a reality and its figure: the line of a mountain, for contour; the line of a body, for its shape; the line of water, for a demarcation. The line operates in everyday life with such efficiency that we forget that this simple word not only organizes our perception, but determines our basic rapports between front and back, deep and shallow, in and out, near and far, on and off, up and down, past and present, today and tomorrow. Our physical geography, our relations to nature, and even the whole domain of our culture, are topographies structured by lines. Kal Mansur's work figures an artist's apprehension.
—V.Y. Mudimbe, On African Fault Lines (2013)
For Pulse Miami, Kal Mansur has created sculptures—non-specific objects—which are a simultaneous homage to and departure from minimalist traditions. The series combines gestural drawing with multiple machining processes. Mansur composes first with tape, creating a drawing built upon strokes that, unlike pencil drawings, do not bear the memory of an erased line. The composition is then carved into a solid acrylic slab. The incisions are filled with pigmented epoxy, layers of color built up millimeters at a time. Using a carving machine, Mansur exposes deeper layers by excavating into the slab, creating steppes that are only visible upon closer inspection. Shadows of invisible lines are cast on the wall, as the artwork's incline creates optical effects. The conceptual underpinnings are vast, as Mansur moves past diffusion as a compositional element, and explores how transparency can carry unexpected consequences.
THE GALLERY RETURNS TO AQUA ART MIAMI DURING ART BASEL WEEK
At AQUA, the gallery will be presenting work by Margie Kelk, JP Rautio, Kal Mansur, Matt Neuman, and Court Swartz, all abstract artists. AQUA's unique environment – in a classic South Beach hotel with spacious exhibition rooms that open onto a breezy, intimate courtyard – has become a favorite gathering spot for collectors, curators and art lovers to discover fresh talent and acquire new works while exchanging cultural ideas and forming meaningful connections.
MARGIE KELK'S UNDERSEE HAS BEEN FEATURED ON BLUOIN ARTINFO
In Margie Kelk's new animated film, UnderSee, created with animator Lynne Slater, with an original sound score by composer and cybertheorist, Alan Sondheim, Kelk conveys a world of exquisite harmony which slowly dissolves under the relentless onslaught of pollution. A clean-up crew of aquatic species arrives to eat away the invasive pollutants, and the undersea garden seems to regain some life. The question remains: can the reef and its creatures continue to withstand new threats, or will they give way to a murky universe of jellyfish that can survive in adversity? In combination with a premiere screening of UnderSee, Margie Kelk will exhibit a new series of cast aluminum sculptures and a multiple series of works on paper.
View the press release here and here.